Miss ALAMINOS CITY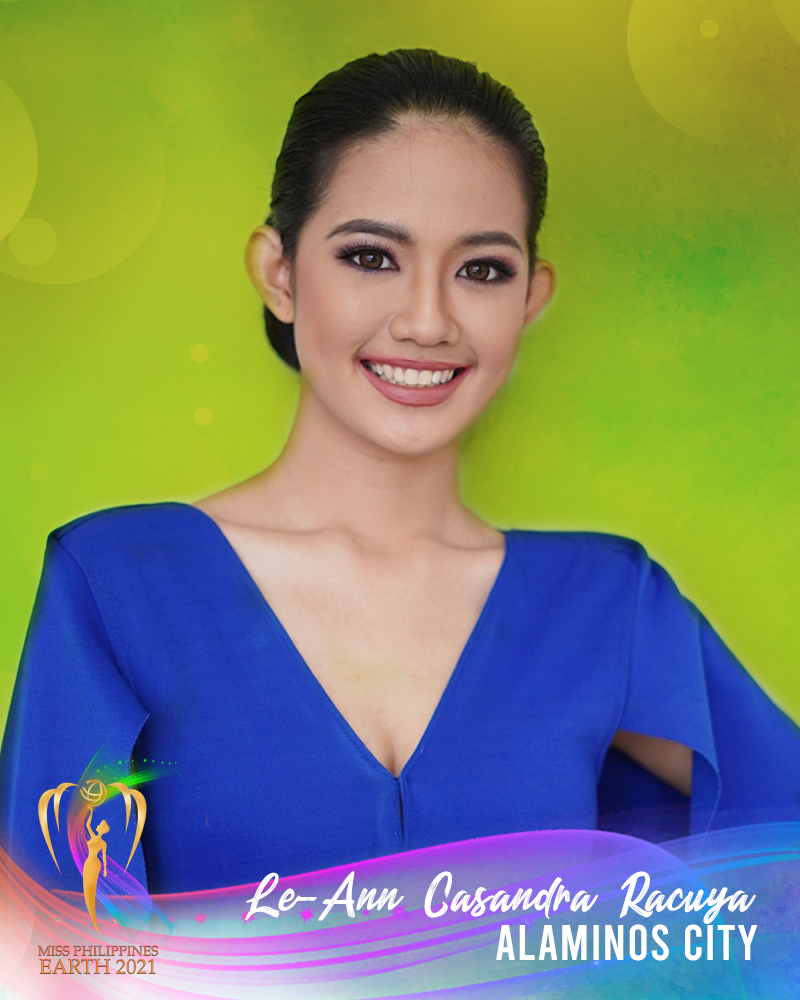 LE-ANN CASANDRA RACUYA
Age: 20
Height: 5 feet 8 inches
Measurements: 34 inches - 26 inches - 36 inches
Occupation/Education: Sales Consultant
Describe your childhood/growing up years (8-13 years old):
As a child who came from a very poor family isn't easy and it takes a lot of patience, kindness and courage to understand your situation and stood up and fight for your dreams to be able to achieve your goals every step of the way because in success there will always be no shortcuts, you have to go to the long path to be able to learn, grow and foster positivity in life.
What lessons did you learn from your childhood/growing years?
The lessons that I have learned from my childhood and as grew up, was to be kind and have courage while showing empathy to others because no matter how hard life gets and how discourage life is because of the people around you, you still have to be kind and always put your heart in every decision and every step of the way because in this life only kindness, courage, compassionate heart and the pure personality what really matters not just the physical beauty but the heart which means a lot to everyone.
Most memorable moment:
To host, organize and attend charity events with my family and friends every year in different places.
Why do you want to be Miss Philippines Earth?
Being the Miss Philippines Earth 2021 is both an honor and a responsibility. As Miss Philippines Earth 2021, you have to be confident in who you are as an individual and as a woman who must overcome many fears and by that I was able to help other people to overcome their fears. Aside from my advocacy, I am here because I have my purpose and this is part of my destiny. In the world full of hatred, separation and anxiety, I want to become the great ambassador of ecotourism that protects the environment and its people and make the people realize that ecotourism and human needs to work hand in hand in order to have a brighter future and greater impact in the economy and in life. I, soon to be Miss Philippines Earth 2021, ready to be fearless, to spread love and compassion and believe that my purpose and reason in joining Miss Philippines Earth will create a change called possible.
What is your environmental advocacy and why did you choose this?
Urban gardening and sustainable ecotourism are the most needed in our country to be able to create awareness, to educate locals and travelers and focus on ecological conservation to provide safe environment and healthier community and it improves the quality of life and livelihood of the local people.