Miss CEBU CITY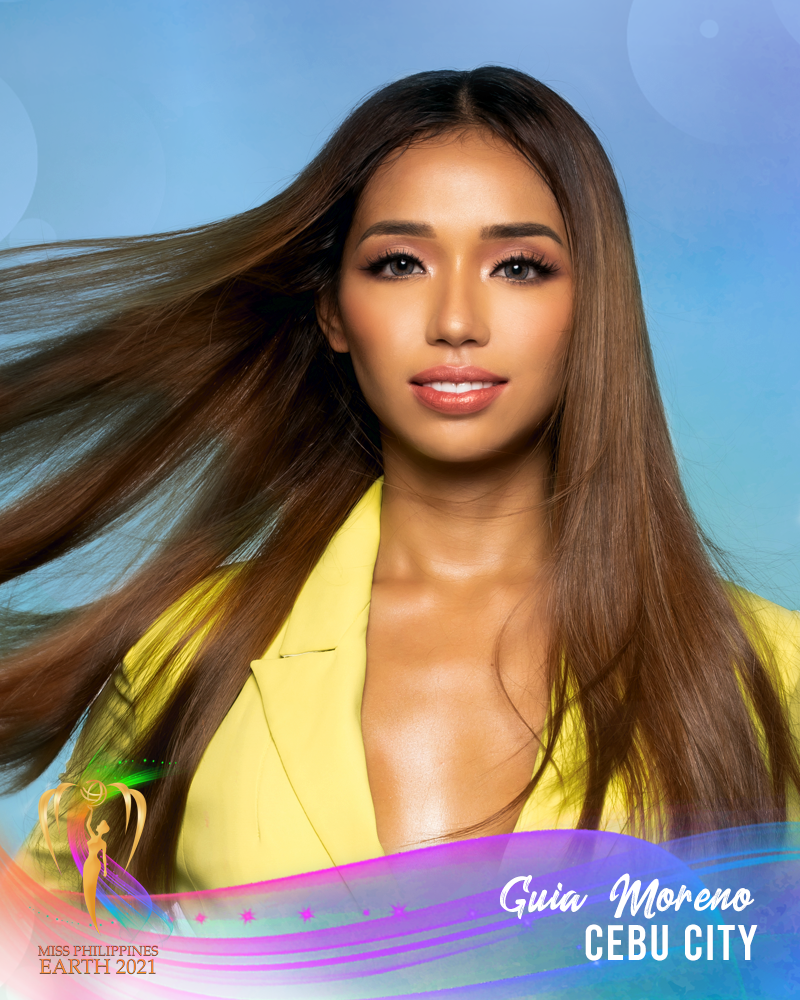 GUIA MORENO
Age: 24
Height: 5 feet 4 inches
Measurements: 33 inches - 24 inches - 32 inches
Occupation/Education: Property Specialist
Describe your childhood/growing up years (8-13 years old):
Growing up, I was very competitive in school. I always aimed to be number 1 when it comes to academic, sports, arts, and everything else. It was also well-balanced because I super loved to play outdoors, hangout with friends, have fun and simply be a kid! I'm grateful for my fun and awesome childhood which served as a good foundation and shaped so much of who I am today.
What lessons did you learn from your childhood/growing years?
My childhood wasn't perfect but it was the best, thanks to a very loving and wise mom. She instilled in me to be confident, to be comfortable in my own skin, and to never leave thing to chance but to make my dreams happen. Hence, the driven and bold woman that I am now.
Most memorable moment:
I had a rough teenage life. I was sexually abused by someone close to my heart. This had a great impact on me, my mental health, my decisions, and my direction in life until I finally took the courage to confront the perpetrator. I will never forget that moment that set me free and gave me so much strength. I will always stand up and empower women who are going through the same experience.
Why do you want to be Miss Philippines Earth?
I have this vision where I am an active and responsible member of a growing community where people are educated about preserving mother earth. This vision led me to become the Guia that continues to put life to cultivating the minds of the youth in making our planet better and greener through discussion on the value of the environment and workshops on upcycling by the way of arts and crafts. Becoming Miss Earth Philippines will give me a bigger platform and will further advance my advocacy- an environmentally educated youth will propel our efforts to save the environment ten folds.
What is your environmental advocacy and why did you choose this?
I am a firm believer on the value of education thus as I have previously mentioned, it is called, Minds on Wheels. It is the charity foundation that I'm spearheading which is working towards enlightening the young generation about the value of protecting the planet through a fun activity workshop on upcycling.

Explorative as I am, I am also promoting eco-tourism by launching a package tour that showcases the Bojo River in Aloguinsan.

We can't instill change overnight. It's a long process and I strongly believe that spreading awareness of the importance of sustainability and eco-tourism is just the first step. Educating the next generation about environmental preservation will definitely give a better understanding of the underlying causes of the different issues that we're facing.