Miss CITY of MANILA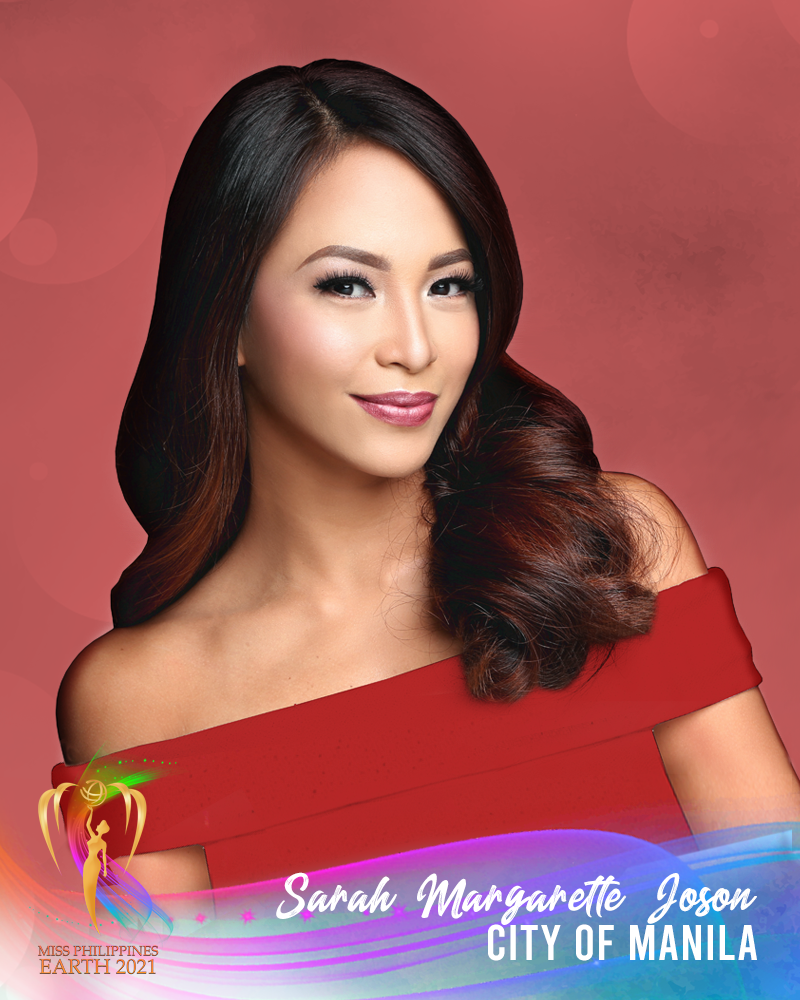 SARAH MARGARETTE JOSON
Age: 28
Height: 5 feet 7 inches
Measurements: 34 inches - 26 inches - 34 inches
Occupation/Education: Trade Industry Development Analyst
Describe your childhood/growing up years (8-13 years old):
I grew up with my siblings and cousins around me whom I considered my best friends. We celebrated every single occasion-birthdays, summer break, christmas break, new year, all of it. And as I was growing, I looked up to my papa because he was the barangay captain during that time. I was able to learn a lot about politics even as a child because my papa was a very good role model and leader to his constituents. We may not have a lot back then, because my papa quit his job to serve our community and my mama is a sari-sari store owner but we are happy and contented as long as we are all together.
What lessons did you learn from your childhood/growing years?
That you should always count your blessings be it big or small. I grew up seeing my parents' hardships and sacrifices for them to be able to give us the life they never had. I will always be grateful to my parents because of that.
Most memorable moment:
The day/s my parents died. Those days thought me a lot of things. And number one on the list is, nothing or no one is permanent in this world. Borrowed life should not be taken for granted. That's why I always make sure to try new things, meet new people, make an impact and leave a good legacy behind.
Why do you want to be Miss Philippines Earth?
With or without crown, the change you want to see, should always start with you. But being crowned as Miss Philippines Earth 2021, will create a bigger impact in motivating others to follow your steps and will produce unexpected outcomes that you think will never happen. So with much honor and pride, I am ready. Given the chance to be.
What is your environmental advocacy and why did you choose this?
Sustainable development of local tourism and greener Philippines
I'm a travel enthusiast that's why this advocacy is very personal and close to my heart, this is like hitting to birds with one stone as I include the tourism sector. I've been to different places all over the Philippines even to the most remote ones and it really opened my eyes to come up with my advocacy by means of becoming a responsible and concern citizen both to the environment and the people. I am not a traveler alone, I also consider myself as an environmental warrior. I take pride to the fact that wherever I go, I make sure to respect the nature around me. Big things come from small beginnings so best example is putting a small piece of trash inside your bag even when no one is looking makes my heart full or carrying your trash until you see a trash bin, etc. It's my way of contributing to mother earth as it gives back something big for me: the air that I breathe. Not extravagant to hear but something that I really do on a daily basis.