Miss MARILAO, BULACAN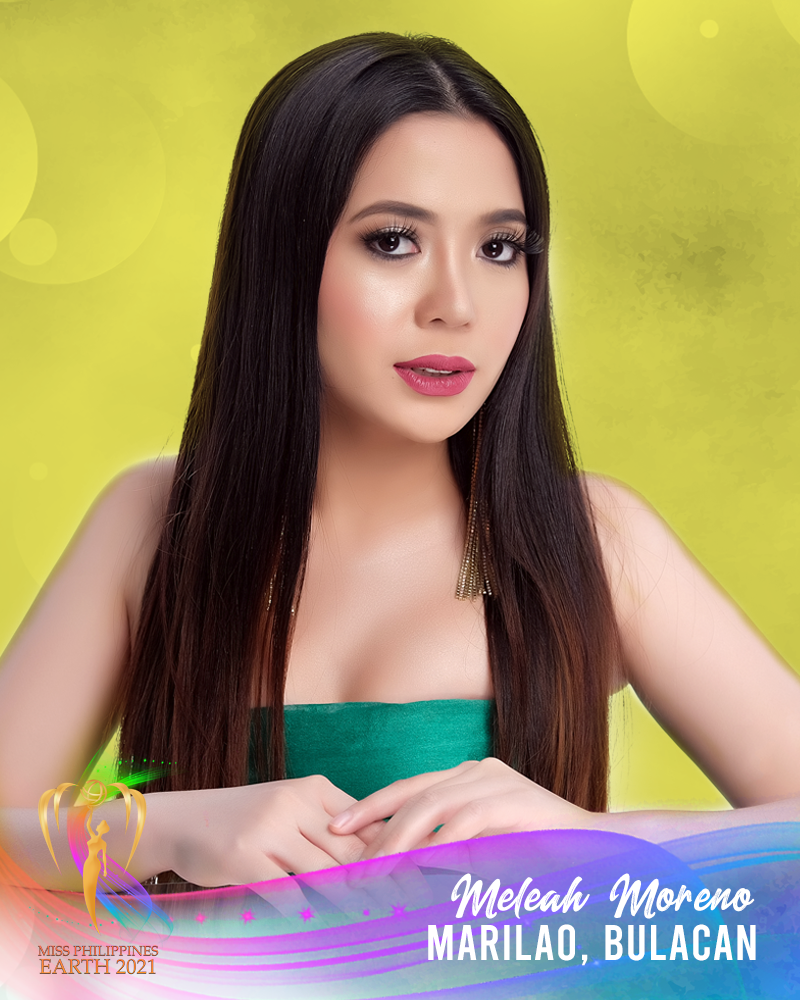 MELEAH MORENO
Age: 21
Height: 5 feet 4 inches
Measurements: 34 inches - 25 inches - 36 inches
Occupation/Education: Entrepreneur
Describe your childhood/growing up years (8-13 years old):
I grew up independently because my parents need to work for us. I stand as the bread winner of my family and I am proud that they raised me very well with all my stands and beliefs in life now. I like to socialize to other people and standing in front of the stage is really my thing since I was so young. I tell to 12 years old Meleah that someday I will be in the front of many people saying out loud the Philippines right after my name.
What lessons did you learn from your childhood/growing years?
Well, a child is very impulsive in terms of decision making. But what I learned in my childhood is to fight for your dreams. You have to be clear on your purpose and dreams in life and no matter what happen achieve it until you got it. Don't wait for it, but go for it.
Most memorable moment:
One of the memorable moments in life was to be part of Miss Glamour Look International and it was really nice experience to represent the Philippines out of 30+ countries.
Why do you want to be Miss Philippines Earth?
I want to be the Miss Philippines Earth 2021 because I believe I am very suitable for the title itself. I believe that this pageant is fair and not just looking for a queen that can be in front of the camera but a queen that can speak for the people and can bring her advocacy wherever she go. I want to be a voice of change. I want to influence people to maximize all their potentials to be environmentalist.
What is your environmental advocacy and why did you choose this?
I grew up in Marilao and it is my hometown. Knowing that the Marilao river place 6th in the dirtiest river in the world is kind of strange and alarming feeling for me. The water in the Marilao river is flowing through Manila Bay and millions of filipinos are using the water in the river for drinking and irrigation. Most of the toxic waste are from tanneries, pigeries and factories. As Miss Philippines Earth Marilao, Bulacan, I want to have an awareness for my fellow marilenyo to have a heart for nature and marine biodiversity. I want to coordinate with LGU's and government regarding this issue. A "Bantay Kalikasan" project aims to produce a new generation eco warriors that will stop the people from killing the future.