Miss BAUANG, La Union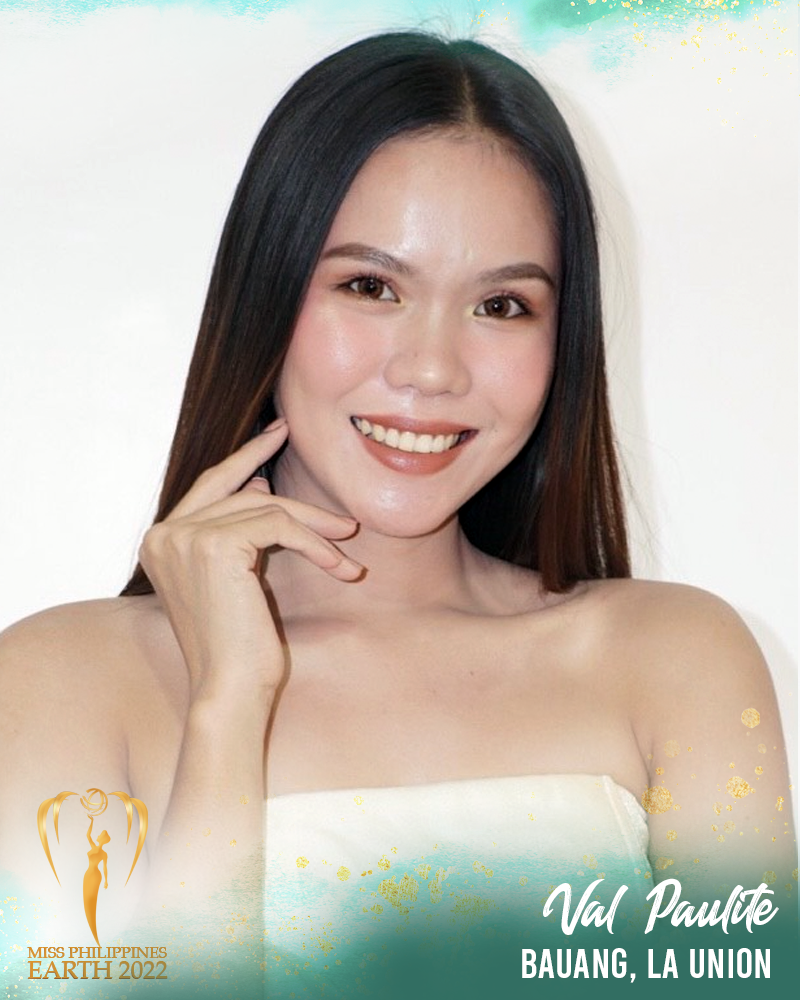 VAL PAULITE
Age: 23
Height: 5 feet 6 inches
Measurements: 34 inches - 25 inches - 34 inches
Occupation/Education: BS Psychology Student
Describe your childhood/growing up years (8-13 years old):
Growing up in a poor family is difficult and challenging. When I was in elementary, I used to sell vegetables and fruits in the market during weekends in order for me to have an additional allowance. After that I go directly to the junk shop and wash bottles/ containers that cost 50 cents each; for the whole day I am happy to have 50-80 pesos in my purse. I am also an active student at school. I am always the representative during English and Filipino Festival for public speaking. I also joined street dancing and choir that enables me to boost my confidence. During those days I always look pity during competition because I only have limited money, and I always compete without parents due to the reason that they are busy with their job. However, a lot of character was developed in me such as self-independence, being a risk taker, and determination in life.
What lessons did you learn from your childhood/growing years?
My childhood years taught me to become resilient and independent; To be determined in pursuing my goals despite the hardships in life. It also taught me to become business minded and thrifty because balancing my time and money is not easy especially while studying. And now I know how to give importance to all my resources, and I also learned to choose my battle wisely.
Most memorable moment:
One of the most memorable moments was when I was accused as a thief by one of my relatives. It was a big amount of money that brought a problem within our community. At the age of 13 I learned that people accuse others based on their financial status in life. Despite how well behaved you are or innocent you are there will come a time that you will be judged as someone you are not. It leaves a painful scar on me but I never prayed negatively for that person, I did not rebel as well until now because I know that there is a consequence in everything we do and God lifts up the humble as the bible says. Because of that experience I want to inspire little dreamers out there who are being invalidated by their status in life, I want them to know that their dreams are possible and valid as long as they will keep their faith.
Why do you want to be Miss Philippines Earth?
I want to be the Miss Philippines Earth 2022 because I want to be part of the Miss Philippines Earth's goal and mission for our environment. I want to use my skills and my time in advocating environmental awareness, conservation, and social responsibility to sustain the beauty of our nature.
What is your environmental advocacy and why did you choose this?
I am an advocate of "Zero Waste Management: Living an Organic life". I choose this advocacy because I believe that if we live in a simple and organic way we will not just help our environment but we can also make ourselves healthier and strong. Following the 3 R's reuse, reduce, recycle is still and will always be applicable until now. As a "Probinsiyana" I can assure that living an organic life is worth it and beneficial to our mother Earth and to our whole being as an individual.
What tip can you share to promote eco-tourism in your City or Municipality?
Social media is a wide platform that everyone can use to this day, and I believe that making videos, and capturing photos of my Province is a great way to promote eco-tourism. It is so sad that most of us admired traveling abroad rather than visiting first the different places in the country. So I think prioritizing our own beautiful places and products is very important in order for us to be part of promoting eco- tourism in the country.