Miss BAYUGAN City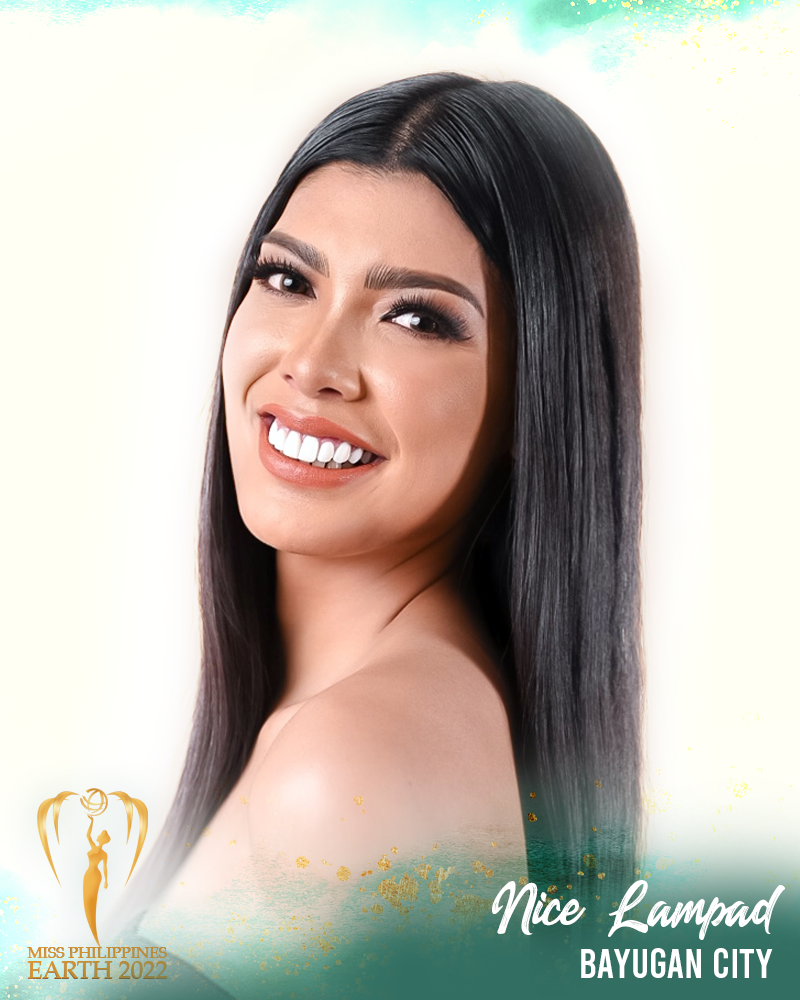 NICE LAMPAD
Age: 21
Height: 5 feet 8 inches
Measurements: 34 inches - 25 inches - 36 inches
Occupation/Education: BS Medical Laboratory Science Student
Describe your childhood/growing up years (8-13 years old):
Growing up, I only had my mother to guide me since my father was abroad. My mother would sell food in the canteen or do manicure service to earn income. At the age of 8 (around 2nd grade), I dislocated my bone in my left leg making me unable to walk for a year. With therapy sessions, I was able to recover. At the age of 11, I joined my first pageant competition in school and it was Mr. and Ms. United Nations. Unfortunately, I did not receive any awards. At the age of 12, I graduated from Noli Central Elementary School (a school in my hometown) as valedictorian.
What lessons did you learn from your childhood/growing years?
As I look back from my childhood years, I learned three things. First is to dream big. I used to hear the words "libre lang mangarap", so as a child, I was encouraged to dream big. When I was elementary, I used to dream to be a dentist. In high school, I dreamt of being a flight attendant. Now, winning my first national pageant, which is Miss Philippines Earth, is one of my dreams. I know it's a huge fight but the second thing I learned growing up is to believe in myself. My family, especially my mom, iis one of my huge supporters. Her constant cheer has brought me to where I am now. In times where I doubted my capabilities as a candidate, as a student, and as a human, she is there, always reminding me to take one step at a time and that she'd always have my back. The third lesson is to love unconditionally whether it may be from loving your parents or friends to loving your career or yourself.
Most memorable moment:
Meeting an HIV positive person was the most memorable experience for me. I met him during an HIV peer educators' training where I heard his story, how he got the infection and how he overcame that challenge. It was memorable for me because at the age of 15, I was educated about the prevalence, significance, and prevention of HIV-AIDS. The stigma against HIV positive individuals and my misconceptions about HIV-AIDS were corrected. His story served as my constant reminder that our willingness to live should be greater than the problems we may face.
Why do you want to be Miss Philippines Earth?
Pageants provide platforms for men and women to be heard and advocate for their causes. The Miss Philippines Earth 2022 is a pageant that advocates for environmental awareness, protection, conservation and social responsibility. Its purpose has been and always will be relevant and can greatly impact not just the present but also the future society. Hence, I want to be Miss Philippines Earth 2022 to advocate my cause, realize my ambition, and to take part in standing up for our environment. For me, Miss Philippines Earth is more than just a title, it is an embodiment of beauty, intelligence and purpose that is anchored towards the betterment of the mother earth.
What is your environmental advocacy and why did you choose this?
The pandemic made me realize many things and one of them is that we have to let the earth breathe. As we re-open our borders and welcome back tourists, I am looking forward to being more strategic in forwarding eco-friendly tourism.

My environmental advocacy – eco-friendly tourism campaigns for the reinforcement of the existing eco-friendly initiatives of the government and also maximizing my influence to gather a community of eco-friendly advocates to intensify our campaign for eco-friendly tourism.

Tourism accounts for more than 5% of global greenhouse gas emissions, hence, I choose to advocate eco-friendly tourism. And as someone who loves to travel, it's time that we rethink our tourism activities and start practicing eco-friendly tourism. We have to give emphasis on strengthening eco-friendly tourism for it does only impact the community but also positively benefits the environment.
What tip can you share to promote eco-tourism in your City or Municipality?
Practice CLAYGO (Clean As You Go). This has become my habit whenever I eat out. I clean my own mess. Also, do away with single-use plastic such as plastic straws. Use glass or bamboo straws instead. Lately, I've been using eco-friendly items such as glass straws and tote bag whenever I visit restaurants and supermarket in the city.