Miss CALATAGAN, Batangas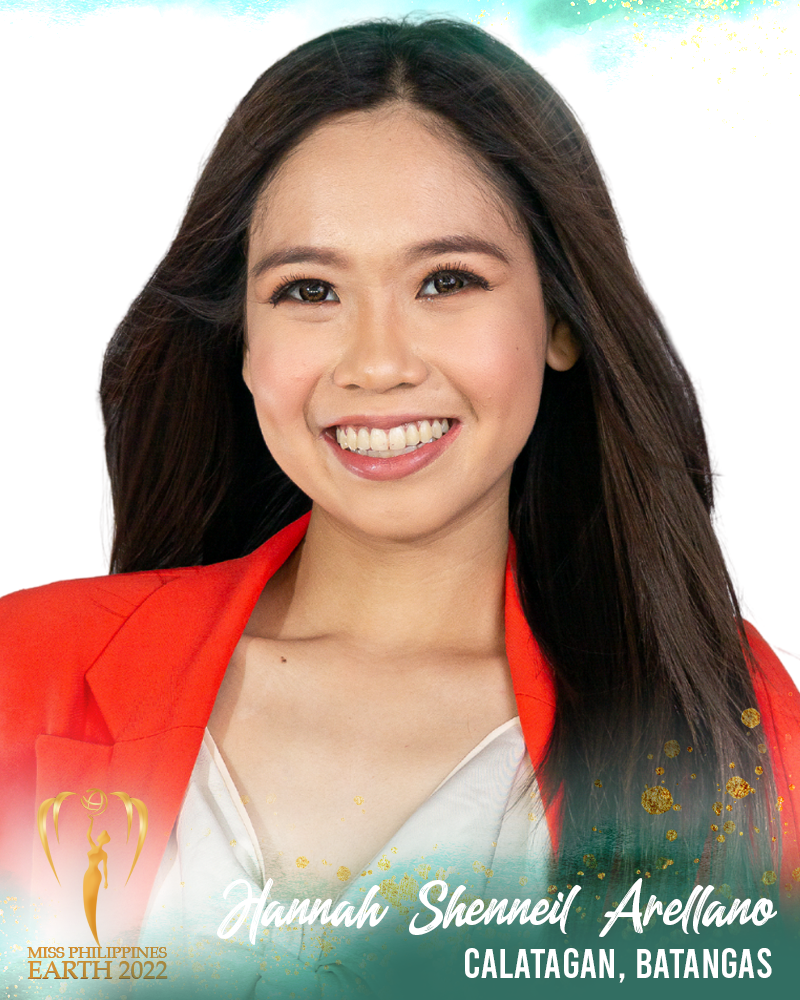 HANNAH SHENNEIL ARELLANO
Age: 19
Height: 5 feet 4 inches
Measurements: 28 inches - 24 inches - 28 inches
Occupation/Education: BS Accountancy Student
Describe your childhood/growing up years (8-13 years old):
I spent my childhood years studying and aspiring towards the top spot in trying to earn a medal. I've engaged in every school competition, such as math quiz bees, essay writing contests, and journalism. I also joined several school organizations, including the Supreme Pupil Government in grade 5 and the Youth for Environment in Schools Organization in grade 6. I've always been a big fan of so-called "academic validation." However, I'm never comfortable with myself – the way I look as well as speak. That being the case, I was someone who was kept in the box and is always afraid to step out. For years, I just kept doing the same thing – studying.
What lessons did you learn from your childhood/growing years?
Make the most of your life. After spending years of focusing on studies, I finally had the courage to try different experience when I was 12 years old. My new school environment exposed me to a bunch of diverse skill-development activities during my early high school years. It emphasized the importance of having fun while learning. I was able to spend my time doing things outside of my comfort zone, such as joining a scouting organization, public speaking, and even earning a spot on our campus' dance varsity. As a result, I gradually developed my self-confidence and enjoyed the company of kind people. It taught me that a child's life should not be spent solely on studying; rather, it should be spent exploring and discovering what will make him/her genuinely happy and achieve a sense of fulfillment even through small victories.
Most memorable moment:
My most cherished and memorable moment was being named third runner-up in our school-based pageant. It came as a surprise. Participating in pageants was not something I was interested in. It was only my grade 8 adviser who saw my potential. She encouraged me to join and even backed me up completely. I joined with no expectations of myself other than to represent our class. I competed against the most well-known and experienced pageant queens in our schools. As I walk up to the stage, all I can think about is enjoying the night and walking elegantly to represent our class. Eventually, I found myself with a trophy and a sash – a completely new experience for me.
Why do you want to be Miss Philippines Earth?
Joining Miss Philippines Earth is taking responsibility for our environment. With a lot of people merely focusing on progress, the health of Mother Earth is often neglected. I am joining Miss Philippines Earth to be a voice that serves as a warning to those who are blind and deaf of nature's crying. I want to be one who influences millions to start taking care of our real wealth – the clearer oceans and greener domains. I want to serve as a reminder that it is about time to give back to our mother who has been sacrificing herself to the extent that she is distressed and is losing a lot. Our little sacrifices today are better than having regrets tomorrow.
What is your environmental advocacy and why did you choose this?
I was born and raised in Calatagan – a well-known travel destination as it is surrounded by salty water. Thus, I grew up seeing that fishing and tourism are among the primary sources of my kababayans' income for everyday life. With that being said, it made me believe that marine life should be cared for and nurtured so that they will have food to feed their family every single day. In the present time, it is so saddening that our water is being threatened due to human activities. I want to bring this to a bigger platform that would greatly help our marine ecosystem, by producing beneficial programs and building partnerships with institutions. I also want to make a call-to-action to everyone that by protecting our marine life, we make sure that our local fishermen have food to feed their families every day, and a more sustainable tourism will be implemented.
What tip can you share to promote eco-tourism in your City or Municipality?
Since then, our municipality has promoted eco-tourism by levying ecological fees on resorts to fund the maintenance and cleanliness of our coasts and lands. They also developed guidelines and environmental protocols that are used to prevent human activities that are harmful to the ecosystem. However, we should always strive to improve and make eco-tourism more successful. With that in mind, I propose ensuring sustainability by limiting the number of tourists permitted in the area, which can aid in maintaining the site's integrity and vitality so that it can continue to attract tourists for years to come. It is also recommended that local residents serve as consultants or directors of community-based, eco-tourism projects to ensure community support. Finally, there should be a strong collaboration between government officials and tourism operators (such as resort and establishment owners) to ensure additional funds, mentoring, training, and guidance in developing more sustainable and environmentally friendly tourism projects.