Miss IBAAN, Batangas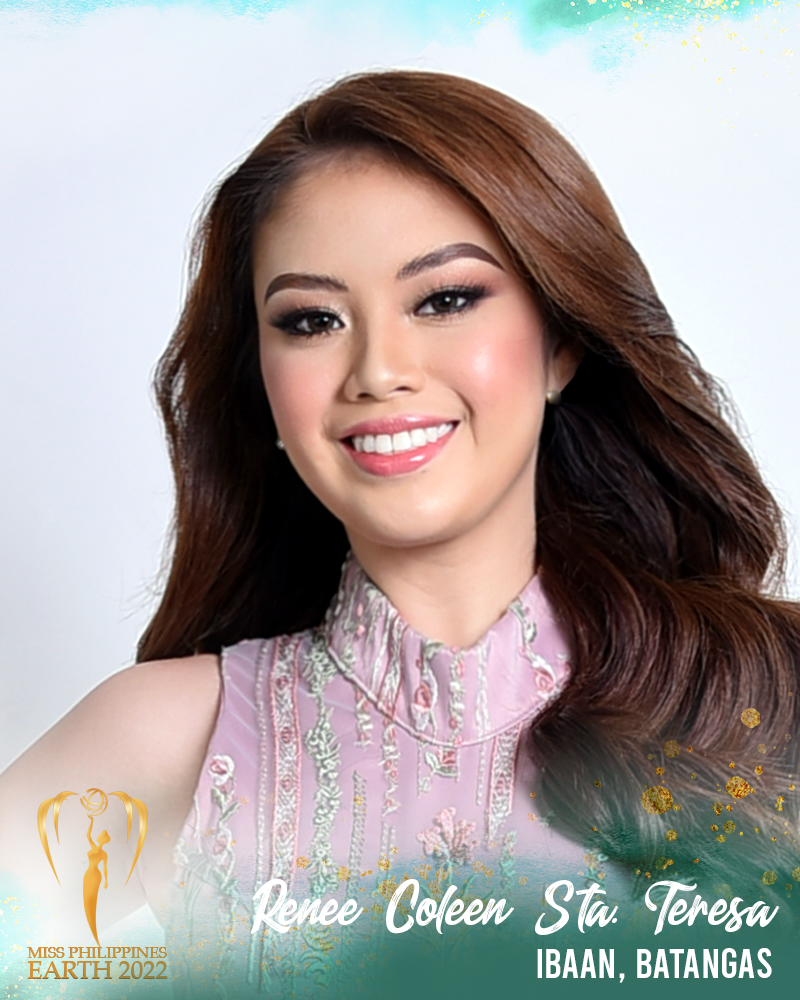 RENEE COLEEN STA. TERESA
Age: 21
Height: 5 feet 4 inches
Measurements: 32 inches - 25 inches - 35 inches
Occupation/Education: BS Tourism Management Student
Describe your childhood/growing up years (8-13 years old):
My parents met in Quezon City, my mom is a Batanguena and my dad is a Bulaceno. That's why I'm used to travelling back and forth because we lived in Bulacan during these years but my titas and cousins were in Batangas. My parents were very hardworking and had an office job, hence, I grew up under the wings of my aunt who stayed with us in Bulacan. My family was very protective of me because I was the first child, first grandchild, and first niece. I only had a few playmates because I rarely went out. I had plenty of toys but no one to play with, and it was only when I had my first cousin that I learned how and was allowed to play outside. But even then, I do think I had a normal upbringing. I've had good memories and some bad memories, but I never caused any trouble to my parents growing up. In fact, I was a consistent recipient of a Conduct Merit Award in my elementary days. I was a hardworking and active student who enjoys sharing her talent to the community. I can also be described as a Bibo kid because I always enjoyed participating in different activities. In some events, my teachers would invite me to deliver an intermission number, represent the class for a pageant, join a competition etc. That's why my childhood was very important to me because it was the time where I got to build my interpersonal skills and come out of my shell.
What lessons did you learn from your childhood/growing years?
One of the most important lessons I've learned during my growing years is that we should never be afraid to take risks and try new things. As a person who believes in this mantra, I can say that it helped me to be more productive and creative as I try different things, I was also able to grow as a person. It helped me to discover who I am, and learn about the things I like, and what I don't. I joined pageants, I enrolled in singing lessons, had dance recitals, tried painting, had guitar and piano lessons, among many things. Because of these experiences, I blossomed into a fearless woman who had no regrets in life because I always said yes to new undertakings.
Most memorable moment:
My most memorable moment was way back in June 2019 which was when I was about to represent my beloved school for a competition in the Tourism & Hospitality Exposition in Manila. It was a Virtual Tour Guiding Competition, and I will be competing against well-known universities in the country. In addition, our school never went home without a medal for this specific competition so I guess you could just imagine the pressure! I trained for weeks to show my best but a few days before the competition, I had a nervous breakdown and was sent to the hospital. The stress and pressure was getting in my head because I just couldn't do it. I didn't want to disappoint my school and everyone who supported me, and being the dramatic and impulsive person I sometimes am, I almost backed out. However, I realized that the opportunity would never have come my way if I wasn't capable, and deep down I know that I could do it. After I recovered, I went back to training after a day and continued to give my best. Instead of looking at it as a pressure, I looked at it as a motivation to work harder and get that gold medal. I'm not going to lie, my competitors did amazingly, the competition was fierce and we all deserved to win. In the end, I was announced as the Champion and I was very happy to receive that gold medal because I knew the story behind the victory.
Why do you want to be Miss Philippines Earth?
I want to be Miss Philippines Earth 2022 because I want to contribute my ideas to the community so that we could live more sustainably. Joining this pageant would allow me to introduce my program to the people, but winning this pageant would provide me with an avenue to put these plans and ideas to life. I know that I can be a good role model with or without the crown, but being Miss Philippines Earth will allow me to reach more people and encourage them to be one with the Earth. This pageant is a huge opportunity for me to give back to our Mother Earth because it has provided and protected us since forever, and now, it's time for us to protect her.
What is your environmental advocacy and why did you choose this?
Tour guides always tell us to "Take nothing but pictures, and leave nothing but footprints" and I wish that more tourists will keep this in mind when visiting our beautiful destinations. My environmental advocacy is entitled Friendly Footprints, which aims to achieve Environmental Conservation through Sustainable Tourism. This revolves around the idea of providing tourists with the maximum experience in a destination, without causing harm to the people, profit, and planet. I chose this advocacy because Tourism is one of the fastest growing industries, and I want to encourage everyone, especially travellers, to have a great time – without compromising nature and depleting its resources. As a Tourism student, I am very passionate about travel and tourism, that's why I am aware that the industry would provide potential threats if we continue to take the environment for granted. Friendly Footprints can be achieved in 3 Steps (phases). The first step would be organizing a seminar or talk in a locale that would provide awareness on the importance of sustainable tourism. The second step of our friendly footprints would share the best sustainabili-tips when travelling – this will be posted online to reach more people. And the third step for our friendly footprints would be spearheading a tour in a locale's popular attractions and hidden gems and applying sustainable practices to show travellers how fun and fulfilling it can be.
What tip can you share to promote eco-tourism in your City or Municipality?
My beautiful hometown, Ibaan, Batangas, is known for our rich culture and unique traditions which has been translated into livelihood. Tourism wise, I believe that we are still on the process of blooming, but I'm sure that we are almost there. One tip I could share to promote eco-tourism in Ibaan is by planting more plants and flowers in our town center – plaza, to be exact, which is the heart of our town. I would suggest planting them in a creative way similar to the Miracle Garden in Dubai, so that when locals and tourists visit, they would feel welcome and uplifted by nature which is definitely good for their mental health. The blooming flowers and plants would represent the colourful and creative people of Ibaan. Not only does this serve as a new tourist attraction in our town, it can also serve as a new home for some animals like bees, butterflies, and many more.