Miss LAMBAYONG, Sultan Kudarat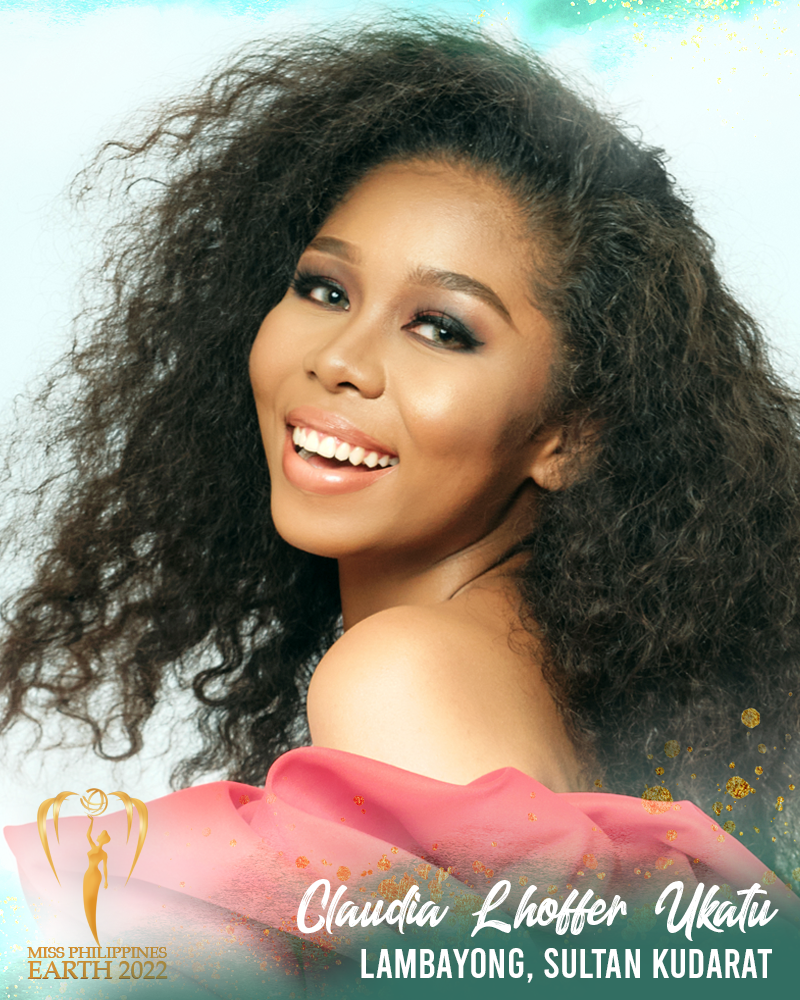 CLAUDIA LHOFFER UKATU
Age: 21
Height: 5 feet 6 inches
Measurements:
Occupation/Education: BA Psychology Student
Describe your childhood/growing up years (8-13 years old):
I became the center of attraction when I was in Elementary school. Most kids were not used to seeing an individual who was different from them. I was subjected to bullying because of my skin color and kinky hair, and I was called names such as aswang, negra, and kulot salot. My parents were not with me here in the Philippines, which made it more difficult. I did not tell my parents about the bullying situation. I was embarrassed and clueless about how to address the situation because I was just a kid, after all. My coping mechanism during my growing years was playing with my cousins. Despite the bullying, I also had my fair share of fun experiences. I was blessed to have pleasant childhood memories with my cousins. We experienced playing in the mud, playing the classic famous Filipino games such as langit lupa, batang x, habulan, etc.
What lessons did you learn from your childhood/growing years?
From 11 onwards, I learned to accept my physical appearance, becoming more assertive as an individual. I realized that all of the experiences I went through, good or bad, contributed to the person I am today. In addition, I also learned to be more open to other people. Thus I decided to see the good in people. The pain I felt also comes with learning, and there are far more good people than those who are not. Along the way, I learned to forgive those who have hurt me because it is the best way for me to have peace of mind and become a better individual.
Most memorable moment:
So far, my most memorable moment was when I celebrated my 15th birthday because it was the only birthday that we are whole as a family, so it holds a special place in my heart.
Why do you want to be Miss Philippines Earth?
When I was in Junior High, I joined my first pageant, Miss Earth, which is a school pageant during our Science day. Out of all times that my Junior High adviser asked me to join school contests, I declined. However, something about the word "Miss Earth" captured my interest. When my adviser mentioned it, I eagerly said yes without hesitation. When I won the crown, my dream began.

Now, I share this dream with my handler, Tita Jayson, my team, and my province, Sultan Kudarat. I desire to win this title because it will give light to my ultimate dream. Moreover, as a student at a green university, my heart is always close to green movements. Once I win the crown, I will have the chance to serve as the ambassador to environmental protection campaigns in the country, which will allow me to finally contribute more to mother nature and give my service to the people by taking active roles in environmental programs.
What is your environmental advocacy and why did you choose this?
Sustainable Environmental Preservation through the art of Minimalism

As an aspiring psychologist, I believe that our mind is a powerful tool to combat the drastic environmental changes in our community. Our mind has direct control over our daily undertakings.

The art of Minimalism is a healthy mental activity and has a multiplier effect if practiced. Minimalism teaches us to discipline ourselves from the food we eat, things we buy, processes, and things we usually do. Minimalism also promotes a green lifestyle which is of great contribution to a healthy and a greener you.

Coming from a province rich in flora and fauna, I and we have realized the interrelatedness and connection we have with our environment as an activity we have to pave the way religiously. With the problems we encounter in our environment, especially the Ill effects of climate change, let us start to re-calibrate and re-align our minds and actions so that we can all be part of the solution.
What tip can you share to promote eco-tourism in your City or Municipality?
I believe the best way to promote ecotourism in my province is through seminars because people will be educated to be mindful of what is happening in our environment. I believe that my advocacy can help change people's perspectives and actions towards our environment. An additional tip that can promote ecotourism in Sultan Kudarat is through reminding people, especially on social media, to do these things: Examine their travel essentials and make eco-friendly purchases that will last longer. Participate in beach cleanups and eco-friendly excursions that utilize less fossil fuel. Never litter and always allow wildlife to live in their natural habitats.