Miss SAN VICENTE, Palawan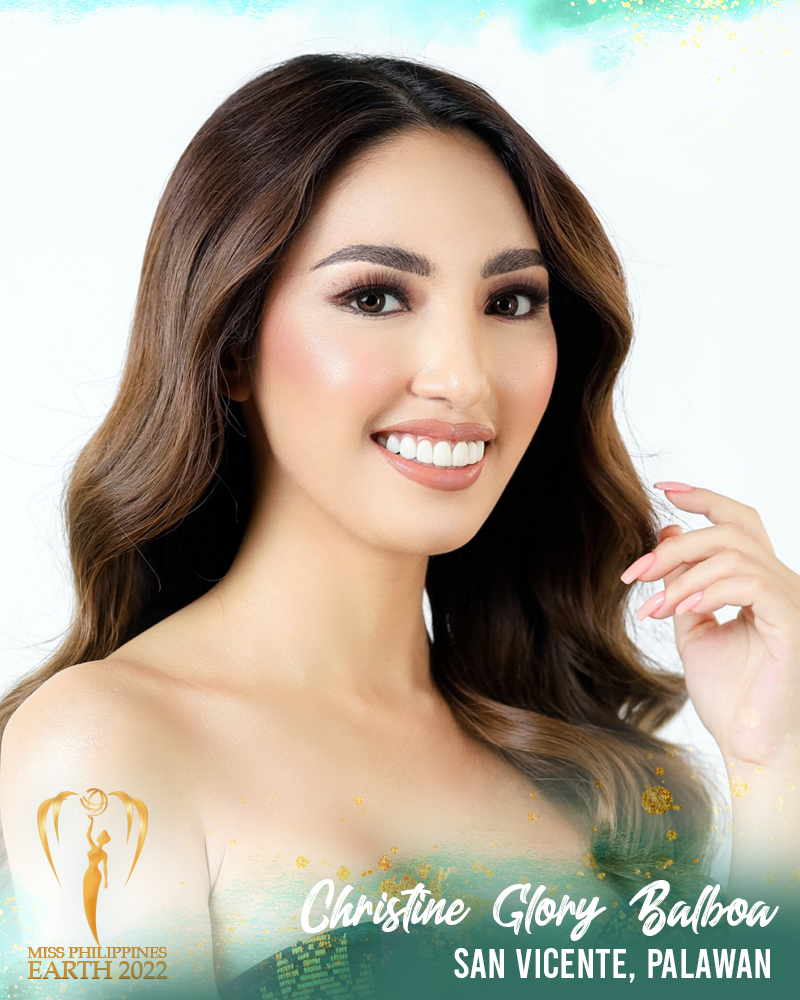 CHRISTINE GLORY BALBOA
Age: 27
Height: 5 feet 5 inches
Measurements: 35 inches - 23 inches - 35 inches
Occupation/Education: Sales Director, Property Specialist and Entrepreneur
Describe your childhood/growing up years (8-13 years old):
I can say that I have had a very colorful childhood. I am blessed to have a dedicated and loving mom who nurtured me with lots of love support and trained me to become a woman of class, dedication, and kindness. As I have mentioned, since I am the eldest child in the family and my father was working on the ship most of the time, I was early introduced to taking responsibilities to help my mom make ends meet. We are a team. Aside from that, I am also active in school activities like quiz bees, dance troop, and school leader.
What lessons did you learn from your childhood/growing years?
The lessons that I have learned during my childhood are to keep my feet on the ground and not be afraid to always share and help if you can. Keeping my feet on the ground has been always my parents reminder to me every time we will be blessed with opportunities and achievements in life which correlates to the other lesson which is to always share and help if we can; not because we have much, but because we experienced how it feels like to have nothing and to be denied on getting help.
Most memorable moment:
My most memorable moment was when I bagged the Mutya ng Palawan 2013 title. Truly success is remarkable when you work hard for it and have that unforgettable sight of your entire family and close friends. They were united, holding their hands together with tears in their eyes while cheering for me! I never felt so much love like that, and I will never forget that moment.
Why do you want to be Miss Philippines Earth?
I want to become the next Miss Philippines Earth because I want to participate in our cause regarding the preservation and protection of our planet. As someone who grew up on such a beautiful island hailed as the Philippines' last ecological frontier, my upbringing has been by nature with a very close and mindful heart to the environment. I want to be an instrument, be heard, and be of influence that the health of our planet is in serious need of attention and solution. And I believe that my heart truly shares the same sentiments with the Miss Philippines Earth Organization.
What is your environmental advocacy and why did you choose this?
My environmental advocacy is "Green Engineering towards Eco-sustainable Development." I chose this advocacy since I am in the real estate industry and have knowledge of the engineering industry. Innovation and technology have been beneficial for us humans in our daily lives; however, some manufacturers neglect their products' effects on our environment. I firmly believe that we should transition as fast as possible into being "green"—green products, green buildings, eco-sustainable designs, and many more.
What tip can you share to promote eco-tourism in your City or Municipality?
If I will give a tip or suggestion to promote eco-tourism in San Vicente, it would be to engage more in digital marketing and improve further infrastructures that helps with the accessibility to the wonders of it. The world has innovated evidently for the past few years, most of business activities are now being done digitally or virtually. I believe that social media promotions will help; such as Facebook feeds, Instagram post or even blogs and vlogs. Also, a safer accessibility with the infrastructures such as roads, street lights and directive signages.