Miss TAMPAKAN, South Cotabato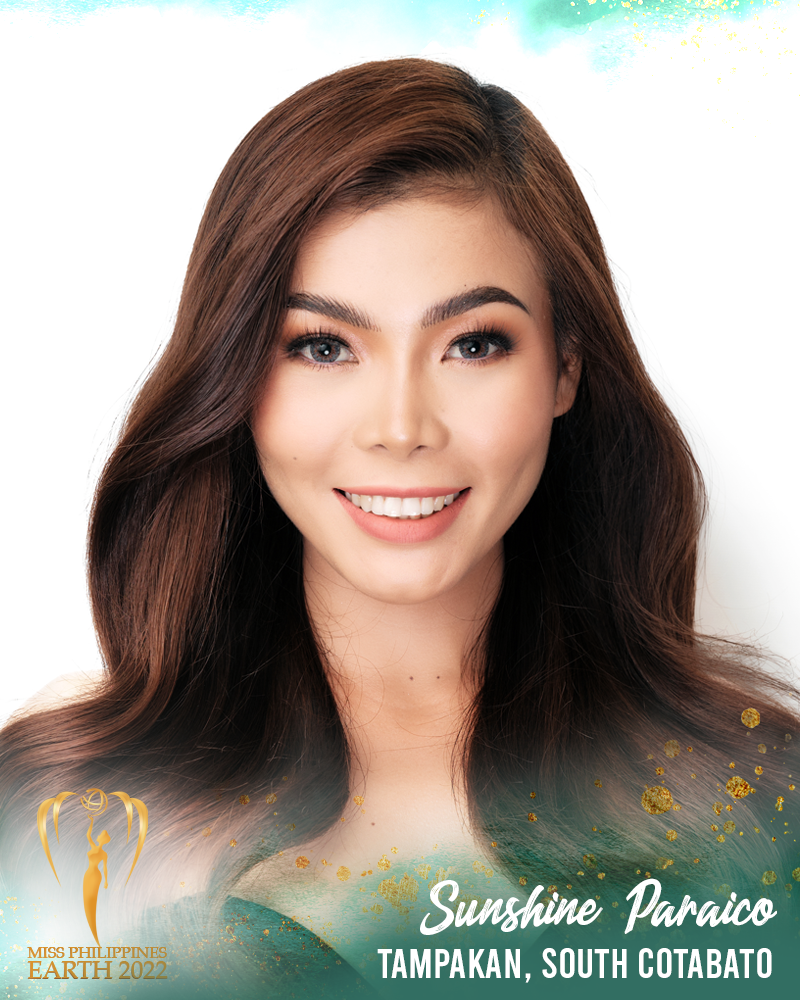 SUNSHINE PARAICO
Age: 26
Height: 5 feet 5 inches
Measurements: 34 inches - 24 inches - 36 inches
Occupation/Education: University Instructor and Doctor of Philosophy in Mathematics Student
Describe your childhood/growing up years (8-13 years old):
They said "Childhood is the funniest moment in anyone's life. I can say that I am an exception to that. I am a product of a very poor and broken family. I was only one year and nine months when my mother went abroad while my father is a drunkard. We can't even eat thrice a day and our signature meal was rice and salt. Awakened by the difficulties of life, I find school as my home, my comfort place. My teachers became my parents and my classmates became my siblings. I get the love and appreciation from them which I barely get from my family. Despite the fact that I go to school without any peso on my pocket, I was motivated to study hard, keeping in mind that education is my only hope to change my life. I became a consistent first honor and a representative of different academic competitions. At the age of 11, I graduated as a valedictorian. I may not have the funniest childhood years but I can say that I have the most memorable and inspiring one.
What lessons did you learn from your childhood/growing years?
Back in my childhood years, I cried almost every night because of our situation. I can still remember asking myself why I was born and have to suffer? And the answer to that question is actually who I am now. My childhood experience taught me three life's greatest lessons. First, in education, there is hope. It's education which turned my life from a poor little girl to an empowered educator and businesswoman. Second, learn the spirit of forgiveness. I once hated my father because of his irresponsibility. I realized that we can never be genuinely happy when we don't let go of the anger and hatred in our hearts. The moment I let go of those pain was the moment I was truly happy. Lastly, we have to trust God's plan in our lives. We have to be strong and have that unwavering faith in Him because all the sufferings, all the challenges are God's way to mold us into better individuals. No matter what life throws at us, the choice is in our hands. And in my case, I chose to be in the right path.
Most memorable moment:
The most memorable moment I had was during the Outreach Program we conducted at Mabini Extension, Brgy. Kipalbig Tampakan, South Cotabato, one of the B'laan communities in our municipality. Seeing the poor situation of the families there reminded me of my childhood years. The children went barefoot while teenagers already have kids. My heart silently cried while watching them. If only these teenagers were properly oriented about the importance of education, they'll going to have a brighter future. I wanted to be a spokesperson to educate children that financial incapacity is not a hindrance to pursue your dreams in life. It's free to dream and there are lots of ways to achieve it. In that very moment, I whispered "I need to do something, not for me, but for my community." I was once in a similar situation with them before but God has blessed me so much that I got to help other people. With the little amount, gifts, and foods we've shared, I perceived genuine happiness on their faces. All I can say is, fulfilling my dreams in life is a blessing. And having the opportunity to share that blessing is a bonus. Sharing is so fulfilling and I couldn't be any happier.
Why do you want to be Miss Philippines Earth?
For 16 years, education was my topmost priority. For 5 years, I've been educating young minds who are the future leaders and professionals of our country. Now that our environmental situation is alarming, I want to take part and used my profession, as an educator, in educating the minds of the people in conserving our Mother Earth. Just recently, I was saddened by the death of some Filipinos in Leyte caused by landslides and floods brought by Bagyong Agaton. This is the number one factor that motivates me to be Miss Philippines Earth 2022 to fulfil my advocacy entitled, "Rehabilitation of Riverbanks: Utilizing Bamboos". Actually, it is a project already conducted by our 1st Year NSTP students in Sultan Kudarat State University in one of the rivers in Sultan Kudarat. Being an ambassadress of Miss Earth can give me a chance to expand my advocacy not just in Mindanao but in the whole Philippines.
What is your environmental advocacy and why did you choose this?
My advocacy is entitled "Rehabilitation of Riverbanks: Utilizing Bamboos". Growing up in a far flung area of Tampakan, I witnessed landslides and floods brought by excessive and heavy rainfall. This project would be able to arrest problems on soil erosion hence, minimizing the accumulation of silt in river beds which causes river overflows and flood. At the same time, when the bamboos grow and matured, they are potential raw materials for bamboo craft industry, hence, providing livelihood program in the community. With this advocacy, we are not just making an impact in our environment but also we are able to improve the quality of life of our countrymen and uplift the economic status of our country.
What tip can you share to promote eco-tourism in your City or Municipality?
In this modern age, most people rely on social media. It transformed the society into a global village where people can interact freely within a span of a second. The best tip that I can give to promote eco-tourism in our municipality is through social media. Through social networking sites like facebook, instagram, and twitter, we can build an active social community of individuals interested in informed and positive environmental and cultural tourism.