alberta
Miss Philippines Earth 2019 Delegates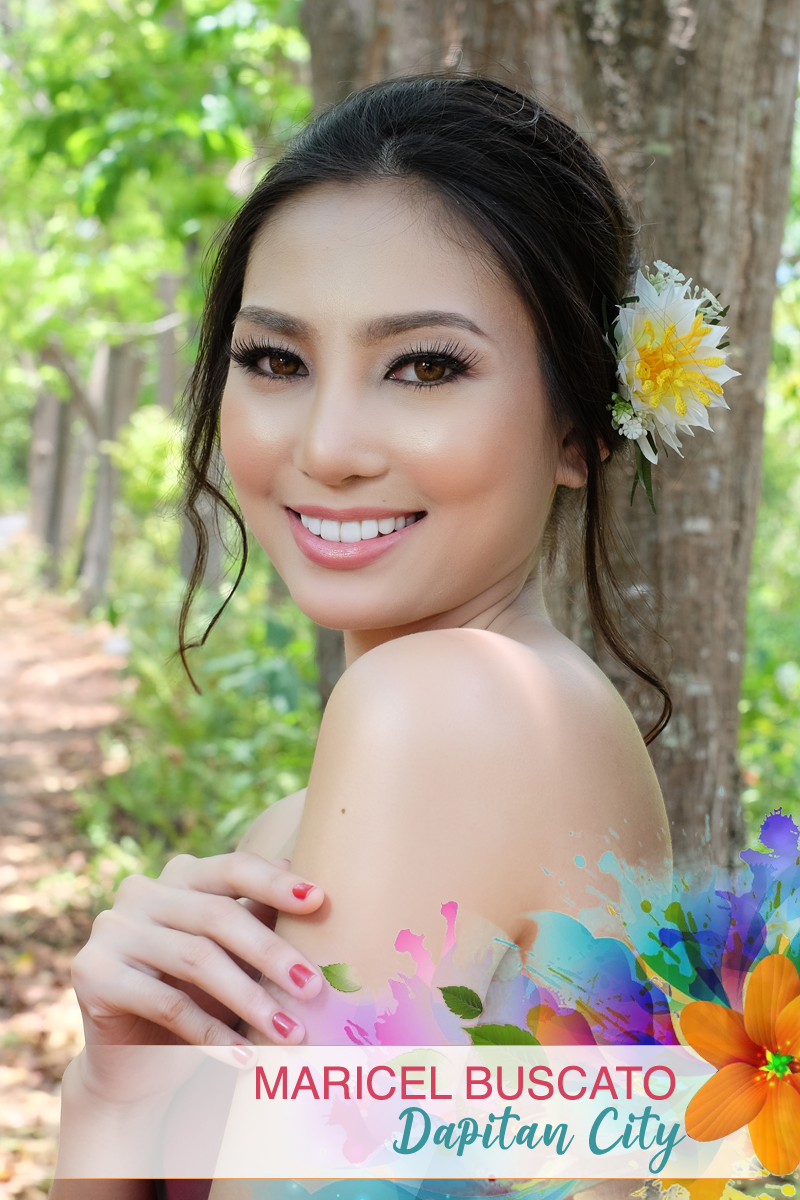 Maricel Buscato
Dapitan City
Flower: Dama de Noche
Profession/Education: ESL Tutor
Height: 5 feet 6 inches
Measurements: 32 inches - 23 inches - 36 inches
Describe your childhood/growing up years (8-13 years old):
I am the eldest siblings so I was kind of in charge. I spent most of my childhood going to the beach, collecting seashells and getting seafood/shellfish especially when it was low tide. As kids, we would play and have fun around the coconut trees and we would also help our parents do the household chores. During the weekends, we would go into the woods to collect firewood which we stack in a small cords as fuel to cook our food. I didn't have any gadgets when I was growing up, which is why I was a very active child and was able to interact with kids around my age. While growing up, my siblings and I were also taught the value of education. I moved up through grade levels with high honors in my elementary years and graduated as the batch's salutatorian.
What lessons did you learn from your childhood/growing years?
I learned to be strong but remained kind and sweet deep inside. At the very young age, I've already felt the struggle my family had to go through in order to survive and keep our foundation intact. I had to stay strong because I'm the eldest sibling. The presence of our youngest sibling, my baby brother who is my closest sibling, I was able to remain sweet and kind despite the struggles we faced in life.
Most memorable moment:
My most memorable moment is when I graduated elementary as the batch salutatorian. It was my greatest achievement when I was a child. It was the first time I felt the sense of accomplishment at the very young age and I will never forget the joy I have brought to the faces of my parents.
Why do you want to be Miss Philippines Earth 2019?
I want to be Miss Philippines Earth 2019 because I believe that this isn't just like my other beauty pageant. This is a beauty pageant with a cause. If ever I win, I will use the opportunity to continue the legacy of the crown, dedicate my reign in promoting environmental projects and address issues concerning the environment. Aside from this, it would also be a great privilege to represent the Philippines in the international pageants with the purpose of preserving the environment and protecting Mother Earth.
What is your environmental advocacy and why did you choose this?
The country is currently facing numerous environmental problems but I choose to focus on improper waste disposal. My advocacy is to help educate especially the youth to practice proper waste disposal as this problem has serious effects on health. I believe that this problem could be addressed in schools where students can start the practice or change their ways on proper waste disposal. It is in the schools where we can mainly advocate for the appropriate ways to dispose our waste.