alberta
Miss Philippines Earth 2019 Delegates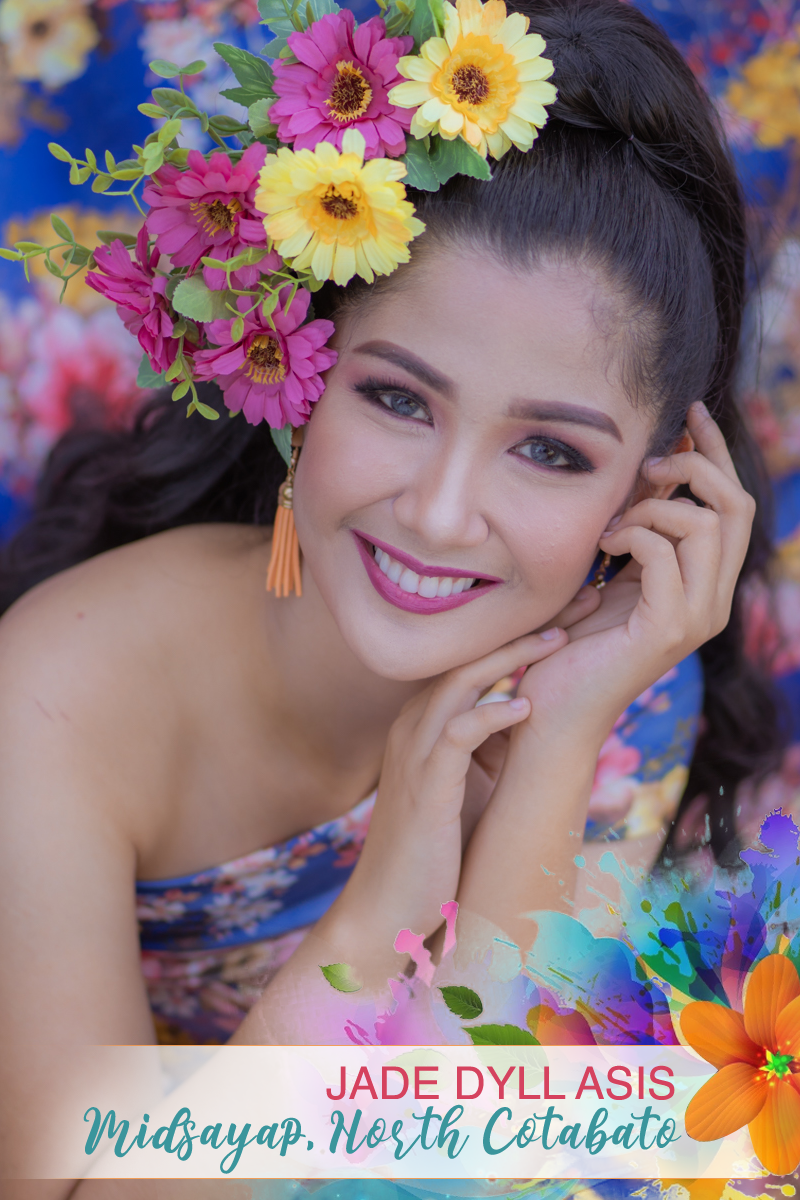 Jade Dyll Asis
Midsayap, North Cotabato
Flower: Daisy
Profession/Education: Student
Height: 5 feet 6 inches
Measurements: 33 inches - 24 inches - 38 inches
Describe your childhood/growing up years (8-13 years old):
My childhood years were really fun and unforgettable. I can still remember that my parents always supported me every time I joined school activities or even the talent competition. This was also the time I became active in the church ministry. I became a member of the Choir group and Youth Ministry Organization.
What lessons did you learn from your childhood/growing years?
Growing up with parents who were always by my side molded me to become a better person. They taught me how to become responsible in my decision-making. They taught me to follow my dreams, to never give up and to stay humble because you never know when everything could be taken from you. And most of all, they taught me to always put God first in your life.
Most memorable moment:
The first time I climbed my first mountain, which is the Mt. Agkir-agkir that can be found in my province. It was one of the most memorable and amazing moments that happened in my life. It was extremely challenging, I felt the sun burning in my skin and the pain in my knees. And as we reached the peak, I exposed myself to the beauty and wonder of nature. I was able to get to know myself further and I was able to appreciate the wonderful scenery around me. Climbing my very first mountain was remarkable. You will realize that every obstacle really requires time and patience.
Why do you want to be Miss Philippines Earth 2019?
I want to become the Miss Philippines Earth 2019 because I want to implement my advocacy. I have this will and desire to take an action and to encourage the people around me, especially the youth. And I will use the crown not only as a beauty queen but also as an ambassador for our Mother Earth.
What is your environmental advocacy and why did you choose this?
My Environmental Advocacy is focused on Forest Restoration, Reforestation, and Solid-waste management. As we all know, we are living in a world where temperature is slowly changing due to Climate Change, Animals are endangered and calamities are now inevitable. I've chosen this advocacy because it is very timely. Reforestation and forest restoration projects reduce extreme poverty and restore our forests, while Solid-waste Management can also help reduce the world's greenhouse gas emissions through recycling and Waste-to-energy solution. It is also connected with the 5 R's – Rethink, Reuse, Reduce, Recycle, and Respect. As an ambassador, this advocacy will ultimately contributing to a better and healthier life.