Miss Philippines Earth 2020 Delegates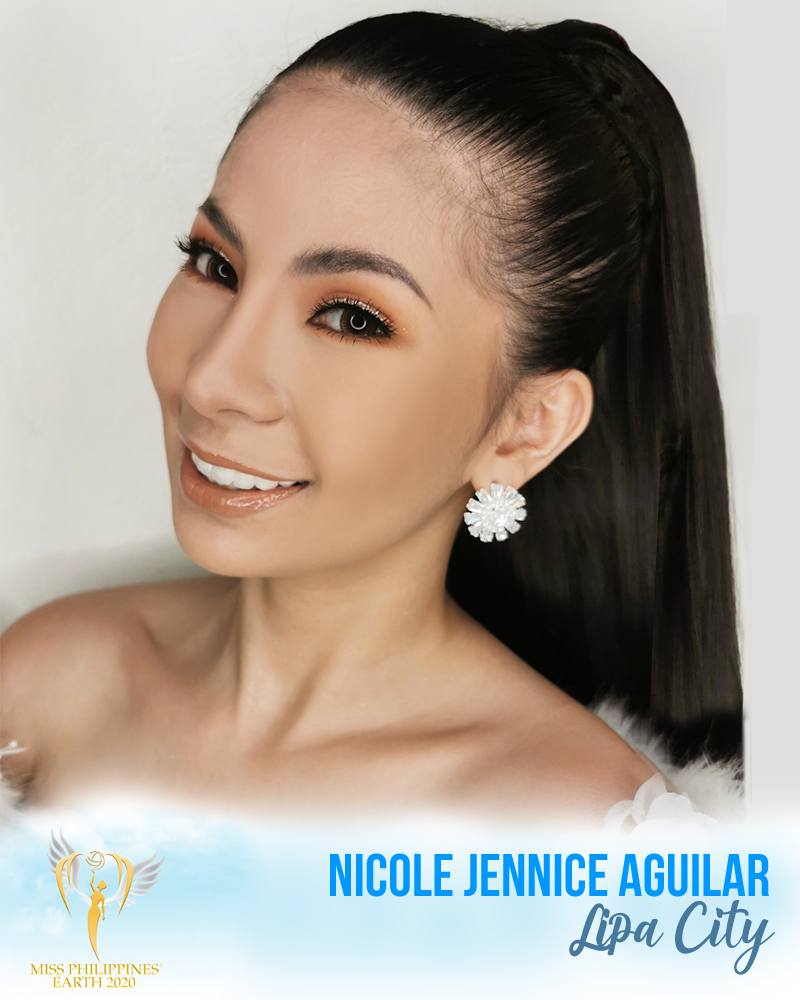 Nicole Jennice Aguilar
Lipa City
Age: 23
Height: 5 feet 5 inches
Measurements: 34 inches - 24 inches - 36 inches
Occupation: Host, Model, Product Endorser and Entrepreneur
Describe your childhood/growing up years (8-13 years old):
I grew up in a very loving environment because of my supportive family.
What lessons did you learn from your childhood/growing years?
I learned to become strong and independent from my childhood years since I am the eldest among my siblings. Reminiscing the days of my youth has always given me a smile or two. Back then, we had our own carenderia, where each of our family members got heavily involved in. We would wake up early in the morning to go to the market, we would wash the dishes in the afternoon, and in the evenings, we would clean up and prepare our place of pride for the next day. With this experience, my mom also taught me how to cook several dishes on our menu and I also learned how to make a good bargain with different kinds of people. These skills served as a foundation for my being an entrepreneur and a professional model today.
Most memorable moment:
My most memorable moment was when I held "Prince", my youngest baby brother, almost immediately after he was born. My heart was filled with so much glee! Then and there, I realized that I have a special role not just as a breadwinner, but also as a good big sister for our family. He made me even more inspired to take on my endeavors, make responsible decisions, and think about investing in my future and the future of my family.
Why do you want to be Miss Philippines Earth 2019?
I want to be Miss Philippines Earth 2020 because I am not just a professional model, I am also a role model. I believe that I am ready now to continue the legacy of beauty and responsibility. With my convincing aura and personality, I can influence more communities and organizations to be the important catalyst of change that we want to see.
What is your environmental advocacy and why did you choose this?
My environmental advocacy is "Clean and Renewable Energy", which focuses on making our world a better place to live in by this as our alternative source of power. Since time immemorial, we have harnessed energy mostly from burning fossil fuels. This process doesn't only threaten the depletion of earth's natural resources, but also releases pollutants and emits greenhouse gases, which contribute to global warming phenomenon that is threatening our environment. I believe that there is still hope if we start utilizing clean, natural and renewable energy for sustainable living to conserve our natural resources and, ultimately, save our Mother Earth.